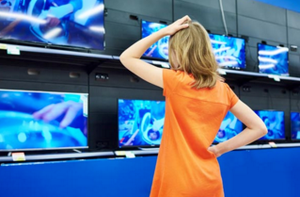 The differences between Consumer and Commercial LED TVs
With so many differences in the display panels that are currently available, it has never been truer that you need to do some heavy research to know the requirements of your panel before you invest. While there are many differences between the models available each are designed to suit a particular application.
If your application requires a panel for use only a few hours a day, a consumer TV will do the job. These panels will display all AV types, have countless inputs, and will air Free-to-Air television with built-in tuners and built-in speakers. Consumer grade TVs do not have the ability to be centrally-controlled via RS232 (also known as serial control) and have limited features for orientation modes or color matching.
Commercial panels are designed and manufactured to withstand longer operating hours. If you need a panel for a 24/7 information board, an interactive shop window, or to operate in portrait format as well as landscape, you will need a commercial grade screen. Commercial panels don't tend to have a wide choice of inputs and normally won't have built-in tuners or speakers but they can be centrally controlled via third party devices and are able to be ISF colour calibrated to exactly match specific PMS colour requirements. Commercial Grade is definitely best choice for long-lasting, innovative presentations which have maximum impact. Be careful not to use a panel for the wrong application. If a consumer panel is wrongfully used in a commercial setting and is over used, it is unlikely that your warranty will cover the repair. And you may not get the expected lifespan out of the product that you assumed. Always consider the warranty that accompanies the panel. It is recommended that you purchase an extended warranty to indemnify the equipment's lifespan.
For every application there is a panel to suit its needs and vice versa. Consider what your main uses are, what kind of inputs you need, how many hours a day it will be used and what kind of look you're after. There is a panel out there designed just for you!
---